View: l



We specialize in servicing: Corporate breakfast, lunch and dinner meetings and Personal gatherings (Birthdays, Weddings, Baby Showers, Quinces Parties, Anniversaries and more).
It's so easy! Check out our new Budget Catering Highlights! Budget catering.
(A copy of our menu)

Call Us or Email to Us
reservations@lacreperiacafe.com

Tampa @ Ybor City
Ph# 813-248-9700




A French tradition to Breton families for many years, sweet and savory crepes were originally a basic element in dining, Cooked on a large cast iron plate heated over a wood fire, the fine art of crepe making has been improved with the introduction of the electric crepe maker.
Over the past Twenty Two years, Chef Dinos has perfected the art of crepe making; Patrons stare in admiration, as he pours, twirls and flips the crepes. Using the freshest ingredients, which are then cooked to perfection, these crepes are a blend of a visual and delectable feast.
| | |
| --- | --- |
| | Chef Dino's Creperies have been popular eating spots for the health conscious in Paris- France, Athens and Rhodes Island- Greece, Los Angeles-CA, Ybor City Tampa Bay - Florida. |
He offers a creative combination pleasing to vegetarians and meat eaters alike.


In our spirit of tradition, our desire to serve you the freshest most delicious foods, we recommend that you enjoy eating on a plate or uniquely wrapped as a hand roll for carry out.
You will love this savory experience!


We at " La Creperia Café " are committed to providing our customers with the highest quality ingredients, a friendly atmosphere, and a first class service.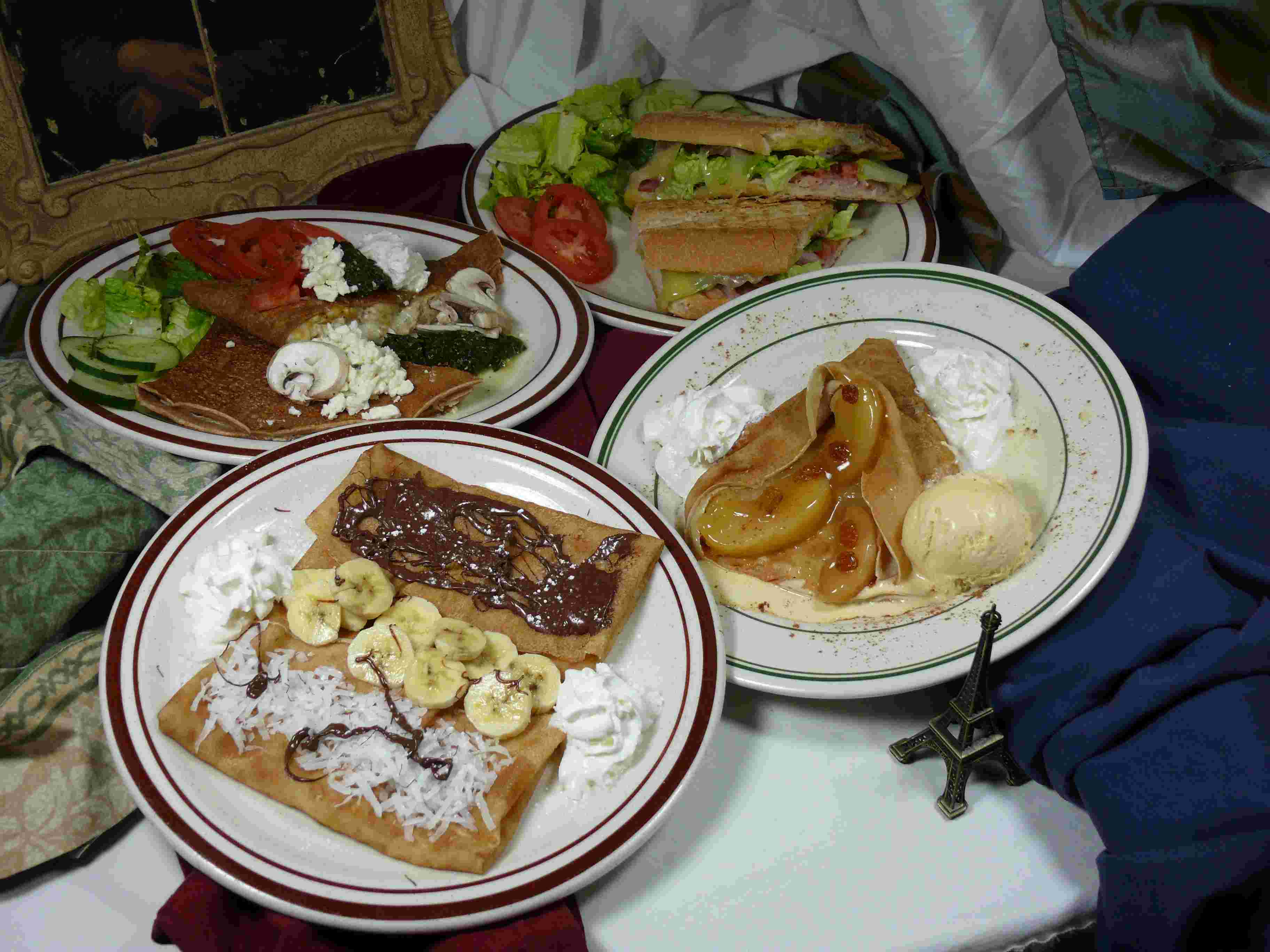 The management and staff thank you for you patronage. The cream sauces are rich in flavor (because where would French cuisine be without cream?) but in the master's hands they are as light and fresh as liquid silk on the tongue. And the chefs constantly try new ideas within the framework of their long experience because cooking is a living art.
Fresh, Fun and New Amazingly Healthy For You
On top of that we'll satisfy your sweet spot too!

CHANGING THE SHAPE OF CREPE TO FIT YOUR HEALTHY LIFESTYLE
A quick and easy meal can be good for you.
We've created a delicious alternative to ordinary food on the go. Stop by La Creperia Café whether you're in the mood for a fulfilling meal or sweet treat!
Our Savory Crepe is Delicious, Healthily and low in Cholesterol.
We believe the only difference between there and La Creperia Cafe is a few thousand miles. Hundreds of regular customers seem to agree: the past few years have seen very high levels of traffic coming through the doors of La Creperia Cafe. Philosophy knows no boundaries, or physical impediments. And we serve our customers with the same integrity practiced for generations in France - because we can.



Promotions



Home | Info | Attractions | Reservations | Video | Reviews | Planning | Tour De France | Photos | The Menu | Feedback